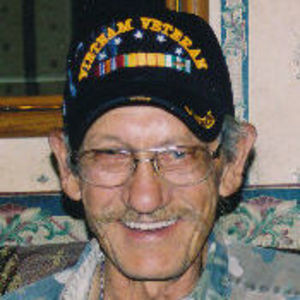 Stephen M. "Steve" Ray, 60, of Maceo, passed away on Friday, January 27, 2012 at his home with his family around him.
He was born on May 30, 1951 in Daviess Co., KY to the late McAdoo and Margaret Hazelwood Ray.
He was a U. S. Navy veteran of the Viet Nam War and received the National Defense Service Medal.
He enjoyed riding his motorcycle and was a member of the Older Bikers Riding Club.
He also enjoyed drawing, playing Texas Holdem, watching cartoons especially the classic Disney cartoons, and drinking coffee and visiting with friends at Hillbilly's.
Steve loved all animals and his years of umpiring and coaching softball and soccer especially when his daughters were playing.
He was also preceded in death by a sister, Elizabeth Shadrick on October 31, 1983.
Surviving are his wife of 37 years, Karen Ray, daughters, Stephanie Dunn and husband Jared of Owensboro and Angela Ray of Maceo, three sisters, Darlene Johnson of Calhoun, Sandy Brown of Owensboro, and Judy Hilliard of Livermore, two brothers, Mike Ray and wife Donna and Oba Hayward Ray, all of Owensboro, and several nieces and nephews.
There will be a time of sharing of memories and special times of Steve by family and friends at 7:00 P.M. Monday evening at Glenn Funeral Home and Crematory. Visitation will be from 1:00-8:00 P.M. Monday at the funeral.
Memorial contributions can be made to the Disabled American Veterans, 1809 Grimes Ave., Owensboro, KY 42303 or to Hospice of Western Kentucky, 3419 Wathens Crossing, Owensboro, KY 42301. Online condolences may be placed at www.glennfuneralhome.com.
Birthplace:  Daviess Co., KY
Resided In:  Owensboro KY USA
Visitation:  January 30, 2012
Comments:
Karen, Stephanie, and Angela: My deepest sympathy to you during this difficult time. It seems like yesterday we were riding to ball tournaments together and listening to Steve make us laugh the whole way. Wow, could he embarass us too! He was such a wonderful, fun loving man and he will truly be missed by many. My prayers are with each of you during your loss.

Posted by: Kim Peak Quinn - Owensboro, KY   Jan 30, 2012
Karen and the Family: My condolences goes out to you and your children. Steve was the most wonderfull person that I have known. I can remember him being at Maceo Playgorund cleaning off the bases for the kids to play ball. I would drink coffee with him at Hillbillies in Maceo. The mold was broken when he was born. Steve was a Great Person to have known.Debbie Sosh Mcknought

Posted by: Debbie Sosh Mcknought - Philpot, KY   Jan 29, 2012
Steve was a man who would do anything for you . He was fun to be around. He was always there for his family and his Biker Brother and Sisters that was his second family. I had the pleasure to ride with him on a couple rides and once in the truck on a ride. Steve & I had a good talk on that ride and I really got to know him and how he felt about both of his families. He was a Good friend and I know every time the Older Bikers go out that Hippie Steve will be there looking out for us and blocking . Steve you have earned your wings now Ride With The Angels My Friend

Posted by: Steve & Debi Shaver - Owensboro, KY   Jan 29, 2012
My condolences to the family & friends. I had met Steve a few years ago. Great man & all around friend. We had ridden together a few times as well. Steve you will be missed brother.Patriot Guard Riders of KY

Posted by: Gregory Newman - Livermore, KY   Jan 29, 2012
Karen and Family,My Condolences to the family, Steve was a great man,I got to ride with him a few times,I always remember Steve cracking jokes he was fun to be around,I will miss Steve.May the Lord Comfort you in this time of need.

Posted by: Brian Quisenberry - Owensboro, KY   Jan 29, 2012
Karen, Stephanie, and Angela, My deepest sympathy to you as you go through the days, weeks, and years ahead without Steve. I will always remember the many times he volunteered at Maceo Elementary School when Stephanie and Angela were students. He was always so kind to me and I truly appreciated the help that he gave to so many. May God bless and comfort you. Your friend always, Peggy Potts

Posted by: Peggy Potts - Lewisport, KY   Jan 29, 2012
When I first met Steve he had me laughing within the first minute. Steve always found a way to bring out a smile; he will be missed by many. So sorry to hear of your loss.Prayers go out to all the family and all who knew him. Mike and Donna Hamlet

Older Bikers Riding Club

Posted by: Mike Hamlet - Owensboro, KY   Jan 28, 2012
Karen, Stephanie & Angela,Steve was a wonderful man. When I was a little girl, he always scared me and I think it was his laugh. It was so powerful and joyous!!!! He would have done anything for anyone at anytime. I know you all feel you have been blessed by the time you had with him and he was lucky to have you!!!! May your friends and family surround you with their love and support during this difficult time!!!

Posted by: Lea Ann Payne Thompson - North Augusta, SC   Jan 28, 2012